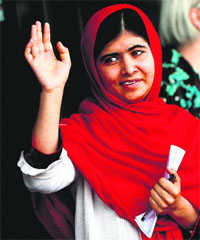 10 Malala attackers get 25-yr jail
Ten Pakistani Taliban terrorists were today sentenced to 25 years in jail by an anti-terrorism court for their 2012 gun attack on Malala Yousafzai, the teenage child rights activist who last year won the Nobel Peace Prize.
The ATC in Swat District of Khyber Pakhtunkhwa region announced the judgment after trial of the accused, finding ten guilty and handing down 25 years imprisonment to each of them, a district official from Swat said.
Tehreek-i-Taliban Pakistan (TTP) militants had claimed responsibility of the attack on Malala in October 2012.
Malala, who was 15 at the time, was shot in the head on board her school bus in the Swat basin. She was given the Nobel Peace Prize in 2014 along with India's rights activist Kailash Satyarthi for campaigning for children's rights, disregarding the risk to her life.
In September, 2014, the Pakistan army said that it arrested 10 men involved in the attack on the 17-year-old activist.
Ataullah Khan, a 23-year-old terrorist, was identified by a police report at the time of the shooting – but he did not appear in the list of ten men convicted.
The militant survived the gun shots and recovered after treatment first in Pakistan and later in the UK, where she lives with her family.
Malala won worldwide praise for standing up for the right to education of girls in Swat valley in 2007 when Taliban controlled the region.