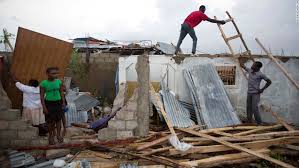 250 died in the destruction by Hurricane Mathew
Destruction of Mathew Hurricane, more than 250 dead. Death toll may rise in future, as this is considered to most powerful and massive hurricane of the decade in the Caribbean town Haiti.
Town of Roche-a-Bateau has got more than 50 people dead.
Now this hurricane is believe to be moving towards Florida and president Obama has instructed all the emergency services to be on high alert. All the emergency departments have been on high alert , as Mathew may hit the coastal state Florida of USA at a speed 22kmph.
In Many areas orders for evacuation have been given, effecting many people living in those areas.Many homes and businesses are going without power making things worse for the locals.
Hurricane moved towards Bahamas, where no causalities were reported but there was massive destruction as trees were thrown away after being uprooted. Electricity in most of the areas was gone because electric poles meant to carry wires were also destroyed by the hurricane Mathew.
Tiburon peninsula, saw massive devastation as hurricane passed directly through it , uprooting telephone and electricity connections. Some NGO's came forward to support people ,but police or army was not seen anywhere and hence people were found helping each other instead.