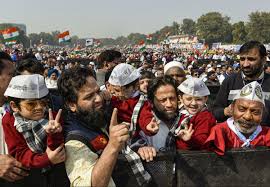 AAP volunteers shifting to Apna Punjab
New party floated by Sardar Sucha Singh Chottepur , 'Apna Punjab' , is attracting more and more AAP workers and leaders every day. In the most recent shift, thousands of volunteers and around 50 leaders from Jalandhar, joined the new party.
Sucha singh Chottepur was convener of the Aam Aadmi Party in Punjab, and was removed from the post after the allegation of taking money for mla seats. An inquiry team was setup by the AAP to investigate the issue, but Chottepur decided to quit the party himself and formed his new party by the name Apna Punjab.He started with Punjab parivartan Yatra to Meet his volunteers before deciding to float a new party.
AAP leaders from Jalandhar, Dr. H.S. Cheema, along with thousands of supporters joined the new party. He told most of the worker moving to the new party are from Jalandhar west , jalandhar north, Cantt, and from Bhlath, and there number is 2 to 3 thousand. when asked why they are leaving AAP , DR. Cheema told that they had expectations from AAP ,but party got distracted from the path, and when Chhottepur formed new party, volunteers now have feeling that they may be able to do something for Punjab now.
Gurwinder singh Shahi, who was managing bhlath area, told that , many volunteers are planning to move to new party, who are presently seating in their homes. He told around 400 to 500 workers have joined today only into the new party Apna Punjab.