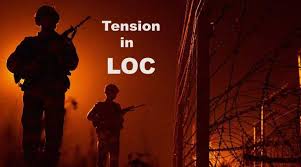 After India's strike in POK, Border villages are being vacated
So called surgical operations by Indian Army , after Pakistani terrorists strike army camp, have resulted in the war like situation now.
Last night at around 2:30 am, Indian army crossed the line and destroyed terrorist camps operating outside India. Indian army told its Pakistani counterpart about the attack, but now Pakistan is taking it seriously.
Number of terrorists were killed in the surgical operation by Indian Army in Pakitan occupied Kashmir. This is first time Indian army performed such operation outside the Indian territory.
As a precautionary measure, Indian village along the border , in almost 10 Km area have been ordered to vacate the villages as there seems to be possibility of full fledged war between the two nations.
Number of BSF Personal's on the border at Ferozpur have been increased to certain level. In Border city of Amritsar also , both BSF and army have been alerted.
In 18th September attack on Indian army around 17 Indian army soldier were killed by terrorist who came in army attire and entered the army camp, leading anger in whole nation. People from almost all the states were demanding strict action against the Pakistan.
Situation is tense now as Pakistan's Prime Minister has called upon its security adviser to plan the future action.