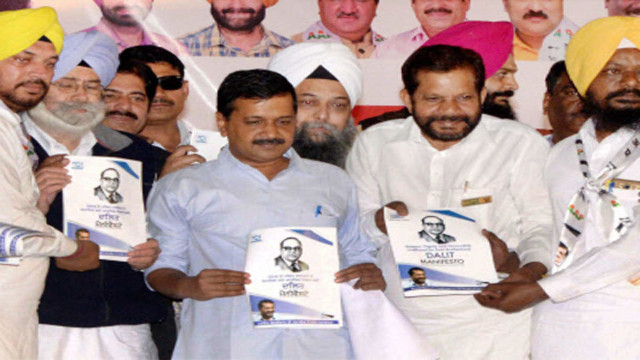 Arvind Kejriwal announced some qualities of upcoming CM of Punjab
Characteristics of Chief Minister of Punjab have been decided by Arvind Kejriwal. He compared Aam Aadmi Party's Candidate with Congress Party Candidate Captain Amarinder Singh and Shiromani Akali Dal's Deputy Chief Minister Sukhbir Singh Badal. He said that Captain Amarinder Singh wake up at morning 11 AM, but our CM candidate will wake up early morning around 6 AM. Our CM candidate work whole day to give a good governance to punjab's people. As Captain Amarinder Singh not meet anybody after 6 pm because he drinks alcohol after 6 pm. Common people is very far, even he doesn't meet any party candidate or minister after 6 pm. But AAP's CM candidate meet people whole day. Future Punjab's CM will listen and will understand problems of common man and will work hard for Punjab. AAP's CM candidate will work from 6 am to 10 pm daily.
Arvind Kejriwal also said that Captain Amarinder singh hold many accounts in Swiss banks but their candidate will hold accounts in State Bank not in Swiss Bank. He also said that their CM candidate will be very polite and dedicated to his work. He will not be part of any type of corruption. Captain Amarinder Singh has relations with Pakistan( he pointed on Captain Amarinder Singh's pakistani friend Arrusa) but our CM will be properly loyal with his wife. We will give very sincere and dedicated CM to Punjab.
Deputy Chief Minister of Punjab Sukhbir Singh badal seized on all natural sources of Punjab like Reta Bajri.Sukhbir Singh Badal is operating his own bus service named ORBIT. But AAP's CM candidate will not be allowed to run any of his own or any of his relative's business, he is only dedicated to his work. AAP's CM candidate will be very far from corruption and the name of candidate is declared after discussion with people of Punjab.