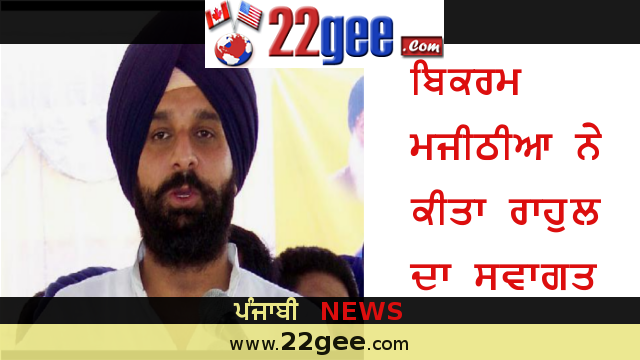 Bikram Singh Majithia will welcome to Rahul Gandhi today
Majithia will welcome Rahul Gandhi in Punjab today. Rahul Gandhi will come Punjab today for election campaign of Congress for upcoming elections held on 4 February. Akali Cabinet Minister Bikram Singh Majithia is very happy and exciting to welcome Mr. Rahul Gandhi. He says that Rahul Gandhi made a record in Congress Party and also in whole India that when he come for election campaign at any place , congress will loose from those seat surely.
Rahul Gandhi is star campaigner of Congress party. With Rahul Gandhi's campaign congress do sure that party will lose this seat, and opposite parties will win election with a high lead. So, we were very excited to welcome Mr. Rahul Gandhi in Majitha, Lambi and other places. He also said that if Rahul Gandhi campaign in my area i will definitely win with a high lead. I give congratulations to Rahul Gandhi and want to said him that please don't change your schedule. Please come in Majitha today and deliver your speech.
If congress party face any money problem i will help him, but make sure that Rahul will come today and will attend meetings in Punjab. I will set all things for a big really. We will send our own helicopter for Rahul Gandhi because any place often Rahul when do campaign for Party Congress was definitely lose elections. He send congress down to earth. He deliver their speeches on the time of MP elections. At that time Congress lose all seats in Punjab.
Rahul Gandhi go for campaign in Majitha today and will also go to Lambi and Jalalabad to deliver speech in Public Meetings organized by Captain Amarinder Singh. Rahul attend a big public meeting in Majitha. Note that Majitha was home seat of Cabinet Minister Bikram Singh Majithia. Bikram Singh Majithia also attacked on Himmat Singh Shergill and said that he don't know the boundaries of halka Majitha.
He also said that congress is a party of anti-social elements. Congress is responsible for 1984 attack on our religious place Shri Harmandir Sahib. Any Punjabi who is known for 1984, he will not vote for Congress at any cost. He also said that i personally want that rahul come here and congress will finish from Punjab so that our Punjab will become a happy and progressive Punjab.