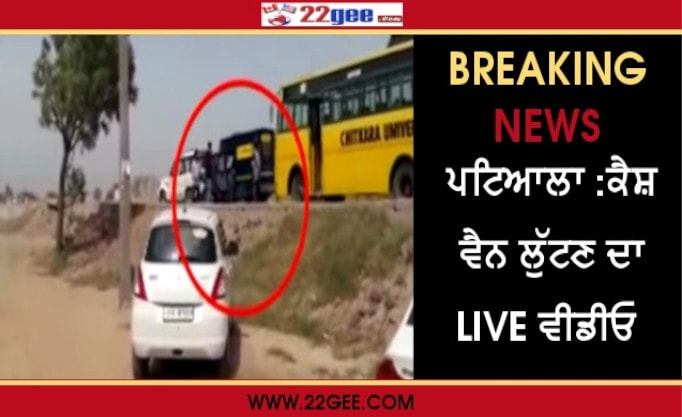 Cash van looted in Patiala
A cash van carrying cash of various banks was looted yesterday. Security guard of the van was badly injured after he was fired upon by the gang of looters. Today live video of the loot became viral which clearly shows how guard was injured in the shoot out.
Cash of the amount around one crore and thirty 33 lacs was looted by the robbers. Robbers came in scorpio jeep and Honda city van. They started firing using fire arms on the cash van near Chitkara University in Rajpura Punjab.
Police was not able to arrest any one in the case, but live video shows how the robbers were looting the van without any fear of police or administration. They injured the security guard who was admitted to the nearest hospital for treatment.
Axis banks cash van was looted in day light and that too on the national highway, this shows the security level of the administration, so government should make the necessary arrangements to make sure, common man's life is safe in and outside their homes.
Now it is interesting to know that new government in Punjab , headed by Captain Amarinder Singh has formed a STF (special task force) to take care of the gangsters and other bad elements in the state. Now look at the courage of gangsters how committed crime in the district of chief minister itself.
Eye witness told the media person that, first Scorpio stopped in front of the van , after overtaking it and pretend as if they have developed some problem in their car. Later Honda city car followed van and stopped right behind it. Then around half dozen criminals came out of the care and shot at the driver of the van and over powered others.
Robbers used electric cutter to cut the chain used to secure the bag carrying cash and run away. Later police found the Honda city car , which was used in the crime ,but the number plate was found bogus.
There have been similar incidents occurring in Punjab earlier also , where bank vans have been targeted and looted in broad day light. In the recent incident, which took place in Ropar, cash van and ATM both were looted in by the criminals. IN total 15 lacs were looted in that incident, out of which around 10 lacs was looted from the van and rest was taken from the ATM only.