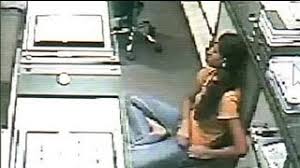 Caught on camera: Girl steals diamonds worth Rs. 25 lakh from Jaipur showroom
Theft are just like games for thieves nowadays.A sales girl named Jyoti in Jaipur theft diamonds from shop in very smart way of worth Rs25Lac.Jyoti is a 20 Years old girl and she is from Delhi.She started her job in Jewellery Shop 15days back.
When nobody was looking at her,Jyoti put some diamonds very smartly in her Jeans pocket and when she get second opportunity she again put some diamonds in het t-shirt.After successful operation she tried to walk out from showroom but security guard stopped her and she asked that she need to take some medicine but she somehow managed to walk out but after 10 mints when she didn't came back, guard raised alarm.
When Police examined her documents,all documents submitted were fake.But after some efforts police came to know about Jyoti's parents.As per her parent's statement, Jyoti is not in their touch from 8 months ago.It also came to light that she was lib=ving with two boys in Jaipur.