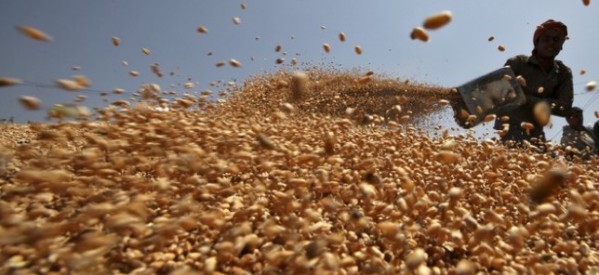 Centre to reimburse 6 states' amount of value cut for wheat
With the predominant farmers' distress obtaining major political dimensions across the country, the Centre today stepped in to announce — for affected states including Punjab and Haryana — the reimbursement of the amount of value cut on wheat they are spending to purchase wheat affected by unseasonal rain and hailstorms.
As per an official declaration, the Centre will reimburse the amount of value cut imposed on the wheat being procured by the Food Corporation of India (FCI) and state government agencies in Gujarat, Haryana, Madhya Pradesh, Punjab, Rajasthan and Uttar Pradesh under relaxed quality norms.
In short, the Centre has decided to provide financial support to states so that they could freely help farmers by procuring their wheat under relaxed requirements. The move is targeted at ensuring that wheat farmers get the full minimum support price of Rs 1,450 per quintal.
Top government agents assert the plan that was initiated almost two weeks back and that it had nothing to do with Congress vice-president Rahul Gandhi turning the prevailing agrarian crisis into a nation-wide issue.
State governments had decided to bear the amount of value cut imposed on the wheat being procured from farmers by the FCI and state agencies under relaxed specifications in the current rabi marketing time, they said. However, most states had opposed to having to bear the cost of the value cut — a decision taken by the BJP-led Centre. Authority say that a majority had asked the Centre to provide them a helping hand for procuring damaged wheat.