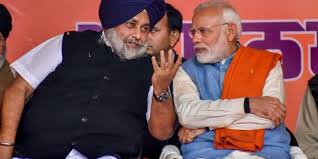 Congress attacked SAD-BJP after PM's visit
Congress party has started severe attacks on ruling SAD-BJP government after prime minister modi's Punjab visit. Two senior leaders opened fronts to attack ruling party, first attack came from senior congress leader Bibi Rajinder Kaur Bhathal, who is visiting various grain markets in the state to meet farmers and listen to their problems and second one came from another senior congress leader Jkakhar who criticized Badal government as no package was declared by prime minister Modi on his state's visit.
Bibi Bhathal visited various grain markets (mandi's) in Sangrur district, and listened to farmers sitting their to sell the product, about the problems being faced by them. She promised that once congress comes into power, farmers will freed of any debt or extra burden on them.
She also promised jobs for unemployed youth of the state. This looks like good effort by congress party to attract farmer vote to their side. She claimed that congress party is the real supporter of farmers which always work for the welfare of the state farmers.
Rajinder kaur Bhathal said congress is true secular party and people fight only in the rule of Akali government. She also promised that at least one person from all the families will be given job if they are voted to power.
Second front was opened by Sunil Jhakhar
Prime minister Modi visited Punjab , yesterday ,but he didn't declared any package or central support for the state. As elections are due in 2017 in the state , it was expected that Punjab will get economical package from center government.
Jhakar attacked ruling SAD-BJP government on the same issue. He alleged that center had sent money for special scholarship for SC/ST students, which never reached the right person. He said chief minister should have raised the issue with the government as students are waiting for their rightful money.
He alleged that it seems like the money has been misused and corruption is the reason why student are void of their Scholarships.