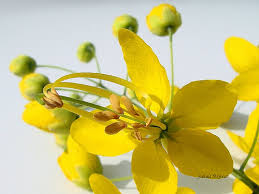 Chandigarh, 1 Oct:
Amaltas, rohira and dhak — these three flowers and some other species are in the race for the "state flower" tag, for which deliberations are on. Though Punjab has 'baz' as the "state bird" and 'sheesham' as the "state tree", it is still the only state in North India, which does not have a state flower.
While Haryana and Jammu & Kashmir have elevated lotus to that level, Rajasthan has acknowledged rohira. Punjab is yet to make up its mind. After failing to reach any conclusion at a recent meeting, Chief Minister Parkash Singh Badal has reportedly asked officials associated with the Bio-Diversity, Forests and Wildlife departments, besides botanists for suggestions.
A meeting held by Badal on Monday on efforts to preserve trees that are on the verge of extinction also discussed the need to select the state flower. It was decided that the flower ideally should be a native one and found everywhere.
Amaltas, immortalised by Shiv Kumar Batalvi in his poem, had many voters but it was remarked that it was a planted tree and not a native one. Some experts suggested rohira, which grows in Bathinda and Fazilka belt, but a decision could not be taken as the flower was already honoured by Rajasthan.
Officials also suggested dhak or the "flame of forest" flower along with kikar tree flower but the debate remained inconclusive. Sources said the Chief Minister asked the officials to deliberate among themselves first and then suggest him a name. Apart from Punjab, Madhya Pradesh and Chhattisgarh are the other two states that don't have a state flower.