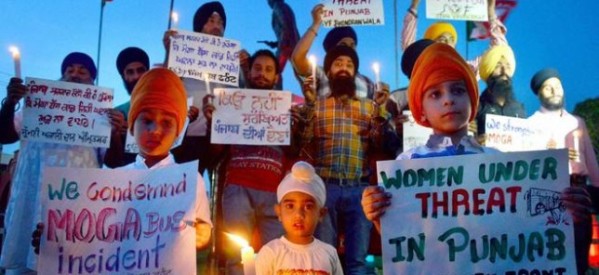 Family rejects govt's Rs 20-lakh offer
The family of Arshdeep Kaur (13), who died after being thrown off a bus by her alleged molesters, on Friday turned down the Rs 20-lakh compensation offered by the government and demanded strict action against the owners of the vehicle.
Revolts continued over the horrible incident with Opposition Congress and AAP activists joining the family to stage a demonstration in front of the Moga civil hospital where Arshdeep's mother, who was also molested and shoved out of the vehicle, is undergoing treatment.
The four conflicts arrested yesterday in connection with the the case were produced before the court of Judicial Magistrate First Class Pratima Mahajan, who remanded them in police custody till May 4.
Sources said Agriculture Minister Tota Singh tried backchannel negotiations with the family through his close associates and offered Rs 20 lakh as compensation to the family. The government also offered a job of a 'sewadar' in a corporation or a board to the victim's father, Sukhdev Singh.
However, Sukhdev declined the offer and refused to burn the body. The girl's body has been kept in a mortuary at Singhawala village and the family has not allowed the authorities to conduct the post-mortem.
The family is forcing that the owners of the bus, Orbit Aviation, be booked in connection with the offence and its road permits be cancelled, a demand vociferously supported by the AAP.