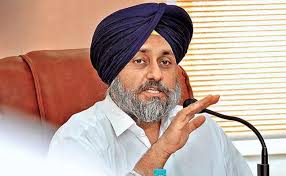 First list of candidates by 16th Nov : Sukhbir Badal
Amid the currency demonetization, the Punjab elections were loosing attention, till the two major news struck , one is SYL and another one is first list of SAD candidates. After the announcement made by the Prime Minister Modi about discarding 500 and 1000 notes, people of Indian including Punjab were busy discussing currency.
News of SYL river water sharing , going against Punjab , by the Supreme Court of India, have forced people to come back to Punjab's politics again. Adding fuel to this, Shriomani Akali Dal chief and deputy chief minister of Punjab, Sardar Sukhbir Singh Badal has declared that first list of candidates will public by 16th of November.
Just a quick reminder new upcoming party in Punjab , AAP , has already declared its 79 candidates and is left with just 38 more to be declared soon. Both congress and SAD have not declare any candidate, except one by SAD. Third list by AAP was declared in the first week of October 2016 and first list of 19 AAP candidates was declared as early as in first week of August.
When congress and SAD leaders were asked about the list of candidates ,no satisfactory answer was received from them and AAP seems to be clearly leading ahead of both the traditional political parties. Sukbir Singh Badal most of the time replied that he has already given indication to the candidates and they are working in their respective constituencies, declaring candidates is just a formality now.
A journalist asked question about Gabria, minister for jail and tourism , sukhbir has given quick reply as Amritsar seat for him. AAP leading in declaring list of Candidates for the Punjab elections due in 2017 , next year.
Congress on the other hand have just given clear indications about the chief ministerial candidate. Captain Amarinder Singh is being projected as Congress CM candidate for the upcoming elections in 2017. About the list of the candidates , one of the spokesman has given indication that they declare candidate in the month of November, so let us see what they do this month.
Fourth fronts parties are also preparing their own lists, and may declare their candidates in this or next month. New fourth front by Yoginder Yadav, seems to leading in declaring candidate earlier, but for the time being there is no news from their side.