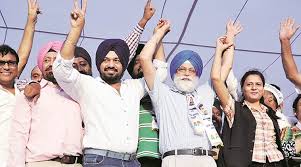 Ghuggi is new AAP commander in Punjab
Gurpreet Ghuggi is new AAP chief in Punjab, replacing Sucha singh chhotepur. In PAC meeting at Delhi , which was looking for sikh face replace Sucha singh because he has alleged that Arvind Kejriwal has not sentiments for sikh religion. Quoting an incident where Kejriwal has told Sucha singh that it won't be a big deal, if later is punished by Akal takht in case of using broom picture on golden temple.
Gurpreet Ghuggi was earlier working as main star promoter of the party. He has been given great responsibility by the party to take care of party activities and lead party in the state.
Sucha singh chhotepur lost his top position after a sting operation, where in , he was shown taking money from some NRI, to assure him MLA birth. Though chhotepur denied being involved in any such activity, and party is still investigating the issue, but he lost his top position of party convener of AAP.
AAP is passing through testing time specially when their main leader have been accused as outsiders trying to influence and pressurise local Punjab AAP leaders. Secondly anti sikh face of Arvind Kejriwal as presented by Chhotepur, has forced party to choose some sikh face and some local and popular among the Punjabi voters. Party is also facing major crises as 7 out of 13 zonal heads supported Sucha singh.