Guru Nanak langar, good bye Hunger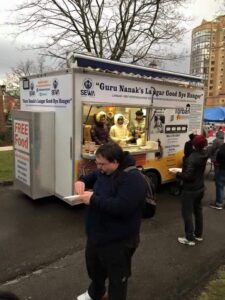 The picture above is going viral on the internet, as people are sharing and resharing the same, to let the world know, how Sikhs are coming forward to help people in Ukraine.  Few people are commenting about the picture, that this is not from Ukraine, it's actually a picture of Canada, but in any case, this picture represents the good gesture of the Sikh community to serve humanity.
A new initiative by guru Nanak Sewa Society Brampton, Canada. They have started free food trucks not only for the Sikh community but for people from all religions including Muslims, Hindus, christens, just anyone.
Initially, they started the project on monthly basis, by serving hungry homeless people, every month but now they plan to make it a weekly basis project, so that they may serve more people in a month.
The idea behind the project is not only to serve hungry people but also to bring awareness about Sikhism among the masses.
Guru Nanak Langar appears where ever people need it, most recently when Russia and Ukraine are fighting, so many people were forced to settle down on bunkers or other safer places, and with the shortage of food everywhere, people from the Sikh community, came forward with food, better known as Guru Nanak's Langar, which free for all, they are not charging anything from anyone, irrespective of what faith they have, no discrimination at all.