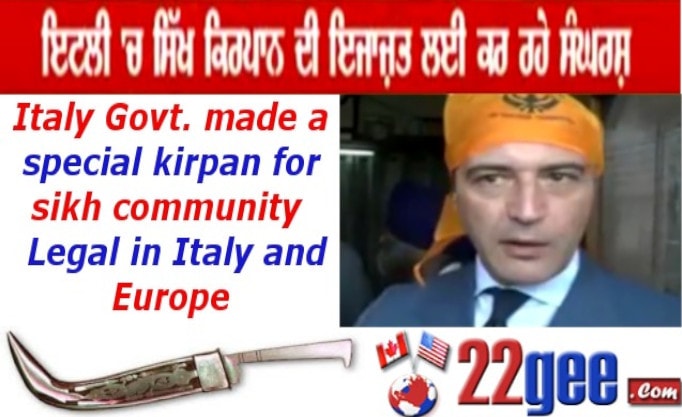 Italy Govt. made a special kirpan for sikh community – Legal in Italy and Europe
Sometime ago Italian Govt. banned Kirpan in Italy , because Kirpan is a kind of a weapon and italian Govt. said that this is harmful for other people and it made a fear in other peoples those who are not sikh .
Punjabi community that lives in Italy requested Govt. that this is their religious icon , so they want permission to wear it.
Italian Govt. thought about this matter and made a third way for solution of this cause . They made a new small model of Kirpan and made it legal to wear for Punjabis.
Some big officers of Italian Govt. and leaders of sikh community yesterday reached Golden Temple Amritsar , to meet with Jathedar of Shri Akal Thakat Sahib Gayani Gurbachan Singh ji to discuss this matter.
They showed models to Gayani Gurbachan Singh ji and discuss the whole problem with him .
Gayani Gurbachan Singh ji said that it is very good initiative from Italian Govt. because we wear kirpan as a religious icon not to scare anyone.
Officers and leaders of sikh community from Italy gifted some models of Kirpans , made by Italian Govt. to Jathedar Gayni Gurbachan Singh Ji .
Italian Govt. gave an authority letter with this kirpan as a licence of it .
All sikhs wear this kirpan at hospitals , school , plans and everywhere in whole world .
There is no objection on it from any Government.