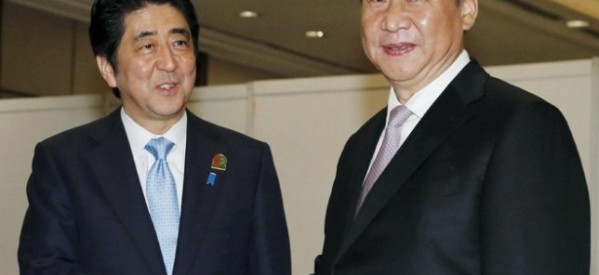 Japan's Abe, China's Xi meet in a sign of easing tensions
Japanese Prime Minister Shinzo Abe held negotiations with Chinese President Xi Jinping on the sidelines of a summit in Indonesia on Wednesday, the latest sign of a warm up between the Asian rivals that came despite a clumsy diplomatic backdrop.
Noting that Sino-Japanese ties had begun to improve, Abe stated: "We want to make the improving trend in the bilateral relations solid."
The meeting took place despite a speech at the Asian-African summit by Abe in which he warned powerful nations against levying on the weak, an implicit reference to China. He also gave a hint to Tokyo's remorse in the past over World War Two without issuing a fresh apology.
Earlier on Wednesday, legislators from Abe's ruling party and the opposition visited a Japanese war shrine in Tokyo that is seen in China as a symbol of Tokyo's past militarism.
However, the two leaders met for about half an hour, signalling the desire of both nations to mend frayed ties and promote a cautious rapprochement.
Pressure between Asia's two biggest economies have blown in recent years due to feuds over wartime history, as well as territorial rows and regional rivalry.
Abe requested Xi at their meeting to work together to ease tensions in the East China Sea, where they have rival claims to tiny Japanese-controlled islets, Kyodo news agency reported.
Memories of Japan's past military assault run deep in China and Beijing has repeatedly urged Japan to face up to history.