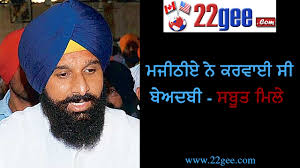 Majithia is responsible for sacrilege incidents
An anti social element was caught by people yesterday. People were very angry and beat him. He told to people that he done sacrilege for money. He also told about person who gave him money. He has done this work for Bikram Singh Majithia. People of Punjab clearly know that all these sacrilege incidents were planned by Akali Dal to destroy the peaceful environment of Punjab.
Second evidence came in light yesterday with investigation commission report which was presented by Harwinder Singh Phulka and Arvind Kejriwal in a press Conference. This report reached in Sukhbir Singh Badal's hand in December 2016. But he couldn't present this in front of media or people, because all big faces of Akali Dal may effected with this. Very big names of Akali Dal were involved in it. This report said that Akali Dal is responsible for these sacrilege incidents clearly at the base of these two evidences.
Arvind Kejriwal said that if AAP's government established in Punjab we will send Majithia to jail till 15 April 2017. Harwinder Singh Phulka said that Majithia is very big and harmful terrorist. He is known as a drug lord in Punjab. He is not only for known for drugs, he also known for acquiring lands of poor persons. In village Bargari, where sacrilege incident were held firstly, some people were protesting here peacefully without having no weapons and no other any kind of fight, suddenly police come there and fired on two people , who were seated on ground peacefully.
Both people died on the spot and main thing is that Police said, "Our department don't know that who were those policemen". Police declared that this work was done by unidentified policemen. Lali Majithia, Candidate of Congress from Majitha, said that terrorists of Jammu & Kashmir is connected to Majithia via Twitter. This proved that Majithia is a terrorist helper and drug lord in Punjab.