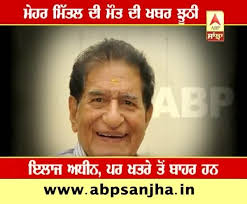 Mehar Mittal died today : Fake News
News about the death of legend Punjabi movies comedian, was viral on almost all social media's. No one knows the exact source of this fake news, but every one on the social media was looking for confirmation.
Now it is very much clear that he is live, and safe but was hospitalized in PGI Chandigarh and was also in ICU. As per the latest reports he has been shifted from ICU to general ward, that means he is safe now and one thing is sure, he is at least not dead.
Only truth about this news is, he was hospitalized and is undergoing treatment, but he is stable now and we pray for his long healthy life. We'd like to request all of you on social media, not to believe in these kind of rumors and try to stop spreading of such fake news.
Mehar mittal was in Born on October 24, 1935 at Bathinda, Punjab. He has worked in almost all the punjabi films in seventy eighties. some of his hit movies are 'Ucha Dar Babe Nanak Da' and 'Long Da Lishkara'.