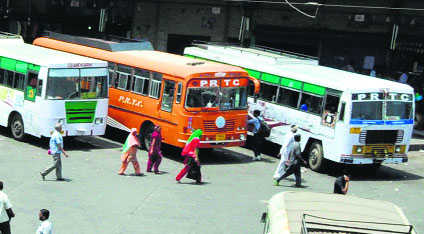 Most of 2,700 state-owned buses plying without insurance cover
Thousands of buses that run in state have been working without an insurance cover, one of the main requirements under the Motor Vehicle Act, for years without anyone bothering about the violation.
The Transport Department officials choose to pay claim to the victims of accidents involving government buses instead of getting an insurance cover for around 2,700 buses which are in running condition and are plying on different routes within and outside the state.
While the department has been throwing provisions of the Motor Vehicle Act away, the traffic police too have turned blind towards the violation. The buses have never been stopped by the traffic police in Chandigarh, Punjab, Haryana, Himachal Pradesh or any other state.
A survey by The Tribune revealed that not a single of the 1,700 buses of Punjab Roadways and Punbus (except for 175 super deluxe buses running under km proposal) is insured. Similarly, neither of the 800-odd PRTC buses has insurance cover.
"These buses have been plying without an insurance cover for years. No one has ever worried to get the buses guaranteed," told a senior transport manager.
Transport Minister, Ajit Singh Kohar, confessed that lack of funds was blocking the insurance procedure.
Malwinder Singh Jaggi, Transport Director, also confessed that the buses were not guaranteed. He said that the Punbus and Punjab Roadways buses would be insured within a week. He said, "We have already given accords and all buses will have an insurance cover soon."
PRTC officials said they did not have funds for buying insurance for the buses. The new buses would only be set into business after getting the older vehicles insured. Officials said the department would have to pay an annual bonus of Rs 34,000 per bus to get a third party insurance. As the prize amount for all buses was too high, the roadways management chose to pay claim to accident victims as stipulated by the Motor Accidents Claims Tribunal.
The officials said it was cheaper and easier to pay compensation in case of accidental deaths, but the managements were forced to opt for insurance as the compensation sought and granted by various courts had started moving towards the higher side.