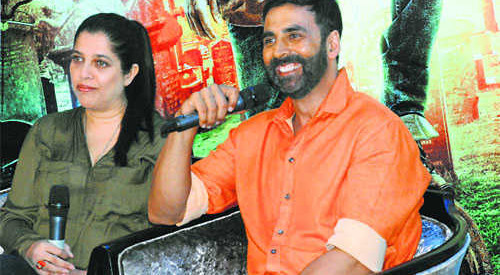 Summer has set in, and it shows obviously on his getup and mood. A tangy orange shirt, shoes in the same colour, random pair of denims, an 'entertaining' smile and a small bit of fatigue abiding in the backdrop.
Akshay Kumar, the name doesn't put any kid to sleep; instead you watch and stare with eyes wide open as the new 'Gabbar' hits the town.
Akshay Kumar is promoting his upcoming film Gabbar Is Back in city and also shooting for Singh Is Bling in Patiala. Well, it is Gabbar now, a new sort of role for Akshay Kumar and with an absolutely new director.
He said, "When I came to the industry I worked with 16 new directors! I like engaging with new people who bring in something fresh. Gabbar is directed by Krish, who makes his first appearance in Bollywood."
This time Gabbar fights against corruption, a character Akshay feels is acceptable. Akshay also states, "In fact, some scenes in the film are somewhat real. The laws of our country are strong and should be respected."

For an actor who has given a laughing storm in Houseful, Entertainment, an interesting and really well-received Baby; we can't say him a typecast. "My character in Gabbar is distinct from the ones that I have played so far, and this is what I prefer while choosing roles. I have done films like Entertainment and Baby; I like to do roles which are not similar from the ones that I have done before."
He also shared, "I have opened a martial arts school where complimentary training is given to girls."
Looking at Saba Khan, he said "She has designed my costume in lots of films. It is a very good time when we set out on film promotions with the team."