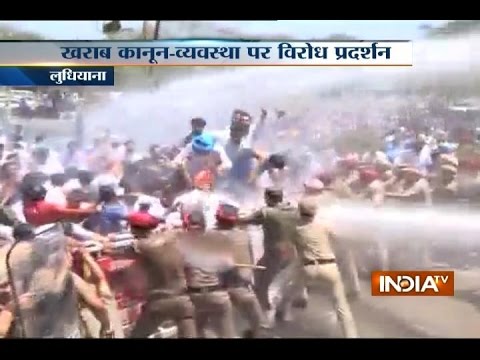 NREGA workers lathicharged by Punjab Police
National Rural Employment Gurantee Act better known as NREGA , is meant to insure minimum wages at their respective places. But now NREGA workers have started demanding permanent jobs. They have been protesting for this demand for a long time.
Police resorted to lathi charge when the worker union tried to move towards cabinet ministers Maluka's native village. Police used water canon's and tear gas shells to disperse the union workers. As per reports around 17 worker were injured in the police action.
Gurpreet singh NREGA worker union member told that they were moving from one village to another in a very peaceful march form ,but when they reached Maluka village, police resorted to lathi charge. He told their peaceful march which crossed around 4 village and reached ministers village, where police was waiting. Police stopped them and started lathi charge without warning.
Workers were demanding there services should be regularized, and they must be give permanent jobs in Panchayati Raj departement.
NREGA, which basically started to ensure at least 100 days work for unskilled workers in the villages. The Mahatma Gandhi National Rural Employment Gurantee Act, was enacted to ensure security and enhanced livelihood of people living in rural India.