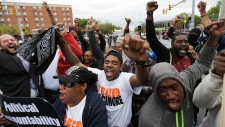 Rage turns to relief as 6 Baltimore officers charged in Freddie Gray death
Rage turned to remedy in Baltimore on Friday when the city's top prosecutor charged six police officers with felonies ranging from assault to murder in the death of Freddie Gray.
Marilyn Mosby, State's Attorney, said Gray's arrest was illegal and unjustified, and that his neck was broken because he was handcuffed, shackled and placed head-first into a police van, where his pleas for medical attention were repeatedly ignored as he bounced around inside the small metal box.
The swiftness of her notice took the city by surprise. So too did her detailed information, based in part on her office's independent interrogation, of the proof supporting probable cause to charge all six officers with felonies.
The police had no reason to stop or chase after Gray, Mosby said. They mistakenly blamed him of having an illegal switchblade when in fact it was a legal and valid pocketknife. The van driver and the other officers failed to strap him down with a seat belt, an open violation of department policy, and they ignored Gray's repeated requests for medical attention, even driving the van to pick up another passenger.
Mosby did not say whether there was any indication the driver deliberately drove carelessly, causing Gray's body to hit the van's interior.