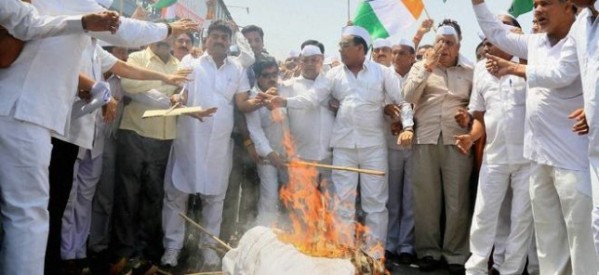 Rahul set to lead anti-land Bill fight
Back from his leave of absence, Congress vice-president Rahul Gandhi today prepared himself to take control of the party's anti-land law and pro-farmers' movement his mother Sonia Gandhi started in his absence.
Rahul discussed with senior leaders about the party's planned celebrations of Dr BR Ambedkar's 125th birth anniversary. The party had been looking forward Rahul's return to plan a national-level launch of the celebrations from Ambedkar's birthplace Mhow in MP. The celebration is crucial to Congress' attempts of pursuing back SCs, a community that has been deserting the Congress since May 2014 Lok Sabha polls.
The principal program on Rahul's table was the party's April 19 'Kisan rally' for which he had planned to meet farmers' commission today. The meeting was, however, postponed to tomorrow with Congress media head Randeep Surjewala.
More than 600 farmers from UP, Haryana, Rajasthan and Delhi are expected to assemble at 12 Tuglaq Lane, Rahul's residence on Saturday morning to discuss with him the results of land ordinance which the BJP is pushing.
While Rahul braced himself to address farmers' commission and later the Sunday rally, Congress game planners today silently worked to project him as the party's pro-farmer face. The party's communications unit lined up a series of publicity posters today with Rahul's images.
Rahul's office is also prepared for him research material on the BJP's alleged anti- farmer policies, especially around the land law the Congress is fighting to get dismissed.
Party leaders today said secretly, "Rahul's speech on the April 19 rally will be important. It is expected to give direction to Congress workers to struggle for farmers' rights in the future."