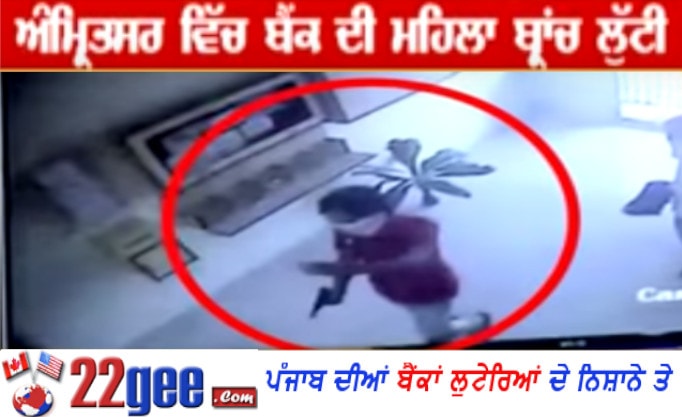 Robbers targeting Punjab Banks
Punjab police is again challenged by daring robbers in state. Robbers struck at two different bank branches in Punjab. First incident took place at all women bank in Amritsar. Here two masked robbers entered the bank and looted around 67000 INR by taking employees of the bank on gun point.
All women bank branch of Punjab National Bank is situated on Lohar road of Amritsar. Robbers did it very much in bollywood style, they entered the branch with covered faces and looted money with what seems to be toy pistol or air pistol. The whole incident was captured by the CCTV camera, which is being probed by the police now. As most of the cash was moved to the safer place , just before the incident which diverted major losses to the bank.
Lakhbir singh who is investigating officer in this case told that, there were actually three persons involved in this robbery. He told that while one of the gang members stood outside with motorcycle and other two entered the bank after covering faces. He was confident of tracing and arresting all the accused at the earliest.Interestingly there was no security personal deployed in the bank.
Second Incident took place in night , here robbers entered the bank branch by breaking AC fitted in the wall of the bank. They tried to break the strong room door but failed. Robbers tried for two three hours with gas welding machine but eventually gave up. Good news is nothing was stolen from this bank branch.
State Bank of India branch of Bathinda, which was breached in night didn't have any security for night. Ritu Raj, who is manager of this branch told that it took around two hours to break into the bank premises. He told the media person, that there were no losses , as cash and other valuables are intact.
Punjab police role in safe guarding the people of state is again on stake. Police have assured quick arrest of the accused , as they are confident they were identify and arrest all the accused in these robbers.