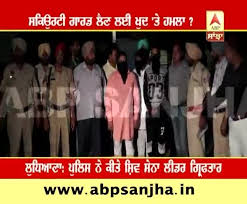 Shiv Sena leaders arrested in Ludhiana
To enhance his security and to show off , this Shiv sena leader arranged fake attack on himself. later in police investigation it was found that attackers were actually hired by leader himself and were instructed to fire carefully or else it may turned out to be disaster for him.
Ludhiana police arrested RD Puri from Ludhiana, who is leader of Shiv Sena Yuva Morcha , planned attack in 2013. Anurag pandit and Dasuja who were investigated properly by police , who break out the whole thing to police. Same case was of another Shive sena leader Amit Arora.