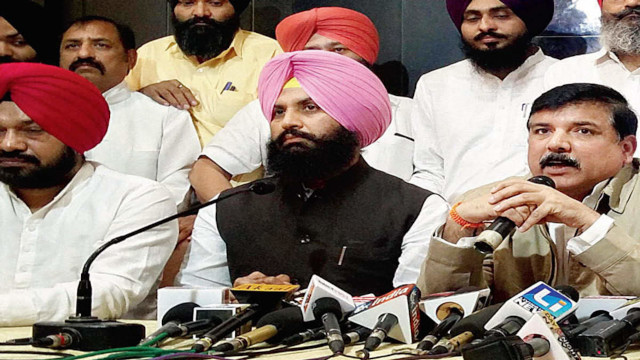 Sidhu should not join Congress : Bains brothers
Lok Insaaf Party headed by Bains brothers of Ludhiana are putting in their full power to tumble ruling government. Lok Insaaf Party is fighting election in Punjab , in association with AAP headed by Arvind Kejriwal. Lok Insaaf Party declared its two more candidates yesterday, out of which one will fight on the symbol of AAP and rest of them will fight on new symbol due to be issued by Election Commission of India.
Simarjit Singh Bains, younger of Bains brothers, today visited Amargarh constituency , to support their candidate Prof. Jaswant singh who is candidate of Lok Insaaf Party. Simarnjit singh take on captain Amarinder singh who is leading Congress in the state, he said Congress is be fooling public by offering one job to every family in the state. He alleged that captain Amarinder was chief minister of Punjab for full 5 years tenure, but how many jobs did he actually brought in for the people of Punjab. He also asked for plan of Congress, as how they will be able to provide jobs to the people of Punjab.
When asked about the founders of " Awaaz-e-Punjab " new political platform by Bains brothers, he said Pargat singh is a greedy Man, who is always looking for opportunities. He alleged that Pargat singh left the front because he felt Congress is going to form next government in the state. He advised Pargat Singh , that he should have stayed with SAD instead of jumping to Congress, as he might have got something there also.
About another founder member Navjot Singh Sidhu, he said , that he is confident , that Sidhu will never compromise, with himself to join Congress. He Said he had number of meetings with Sidhu, and as far as he knew him , Sidhu will never and should not go with Congress.