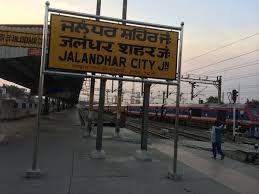 Special search operations at Jalandhar railway station
Special search operations at Jalandhar railway station. ADCP Jasvir singh told that , this special search operation was conducted as per orders from the higher authorities. These kind of search operations are part of precautionary steps being taken by the government to ensure safety of the citizens, specially the festive seasons.
Specially after terrorist attacks on army post in Uri and then seizure of EDI centre in Jammu and kashmir, police and administration is not taking any chances.
Indian army's surgical operation against the terrorist launching pads which killed many terrorist and have created tense environment as relation between two neighboring countries became more stressed.
ADCP Jasvir singh who lead the whole operation told the reporters that they have checked all the packages and other belongings of the passengers and nothing suspicious was found. Apart from huge police force , special dog squad was also called in to make the search operation more effective.