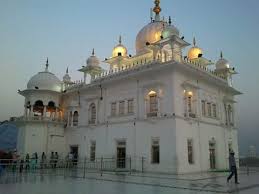 Thievery In Gurudwara Dera Baba Nanak Sahib
Punjab, 29 Sept:
Day By Day Crime increase in Punjab. A shameful news is coming out, Some people have done thievery in Gurudwara Sahib. This report is coming from village Kaler Mangat. Last Night, outside the village at the "Gurudwara Dera Baba Nanak Sahib" some thieves done this embarrassing act.
The Thieves entered the Gurudwara Sahib by jumping the walls. According to information Gurudwara Sahib near to Kaler Mangat, at the road of Majitha to Kathunangal. Before few days, some thieves broken the lock of Langar hall door and stole some bigger cookers and some expensive vessels.
But at Last night again the thieves again come into Gurudwara Sahib. This time they cross the limits and shows the end of shame and thinking.
The thieves are entered in the Darbar Sahib hall of "Shri Guru Granth Sahib", the money-box of Gurudwara Sahib, Battery of Inverter and some other costly things are stolen.
By giving the information about this Leader of Gurudwara Sahib Maluk Singh said that related to this news they reported into the Police Station.