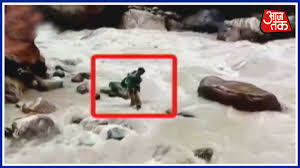 Uttarakhand, Himachal Pradesh To Remain Watchful, Heavy Rain Alert
There are news of heavy rainfall in Uttrakhand, government has issued red alert, heavy rain has made life of people in this state hell.
For Next 72 hours alert has been issued , 13 districts of UK have been badly effected and things can go bad to worse any time. Images from Pathorgarh are really disturbing, people are forced to use jugad bridges of 3 logs, endangering their lives.