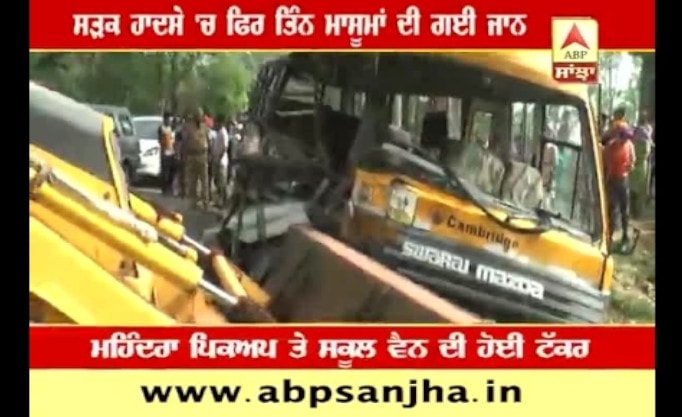 3 School kids died in accident at Dasua
Head on collision between school van and canter took 3 lives of school going kids along with the driver of the school van. Accident occurred in the morning when school van of Cambridge International school carrying around twenty three school kids, met with accident head on with Swaraj Mazda small truck carrying vegetables.
As per the latest information available accident occurred because of scooter driver , whom the driver tried to save and this fatal accident took place. Around sixteen children got injured in the accident and they have been admitted to the Dasua's Civil hospital. Bus was on the way from Hazipur to the school campus of Cambridge international school.
Accident took place near village Singpura on Talwara Dasua road. Parents of the students have reached the spot and some children have been referred to Hoshiarpur Hospital because there condition is serious and need superior medical attention.
Police is investigating to find out the exact reasons for the accident. Addressing media , SPD, Harpreet Singh told that, driver of the school van died in the accident, where as driver of the other vehicle is injured and have been admitted in the local hospital.
Accidents are claiming 1.5 lac lives every in our country which is highest in the world. After a recent ban on liquor vends on highways , there was huge debate going on all major television channels about the ways government and liquor business holders are working on to escape the Supreme court. As per Harman Sidhu who filled PIL in court against the Liquor vends on highways, around 5 lac accident took place every year in our country.