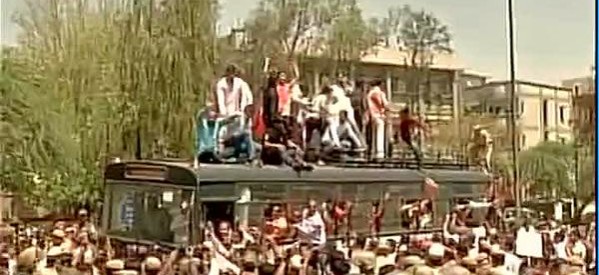 BJP Protests outside Delhi CM Kejriwal's house over Turkman Gate road rage death case
New Delhi: The Turkman Gate road rage case in which a man was bludgeoned to death has turned into a full blown political war between the Bharatiya Janata Party and Aam Aadmi Party government in Delhi.
BJP leaders and workers held protests outside Delhi Chief Minister Arvind Kejriwal's house over the Turkman Gate road rage incident alleging that AAP workers are behind the incident. Police detain a several BJP workers and also used water cannons to disperse the crowd.
"There was complete loss of law and order in Delhi. We wanted to be a constructive opposition and gave two months time to the AAP government, but it has failed on all of front," said Upadhyay. Delhi BJP President Satish Upadhyay accused of the Kejriwal government of failing to fulfil the promises made during elections.
AAP leader Kumar Vishwas hit out at the Delhi Police, which come under the Centre, for alleged "inaction". He claimed that police came to the spot very late. He supposed that the BJP was resorting to politicising the issue as it was scared after the Assembly polls verdict.
A man, Shahnawaz, was beaten to death in a road rage incident two days ago in front of his two minor children by a group of men after his motorcycle grazed their car in central Delhi's Turkman Gate on Sunday night. All the five accused has been arrested by the police.