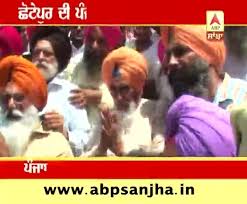 Chhotepur to start Punjab Parivartan Yatra
Sardar Sucha singh Chhotepur will start Punjab Parivartan Yatra to travel all parts of the Punjab State. He will meet common man and AAP workers to frame next strategy for upcoming elections in 2017.
After Sting operation episode ,Sucha Singh Chhotepur was removed from the post of party Convener, but his strong over different constituencies in Punjab gave him moral support to start such Yatra. Out of 13 zonal heads , 7 zonal heads have clearly given him support and delegated him power to decide and work on next strategy.
AAP party top leaders are trying their level best to manage him but things seems to be going out of their control specially after Sucha Singh Chhotepur refused to appear before investigation committee setup by the party.
Punjab parivartan Yatra looks like a well planned step by Sucha Singh Chhotepur to consolidate his position in Punjab state and within the party as well. This Yatra will include his visits to major cities of Punjab including
Punjab Parivartan Yatra will start from 6th of September as per following program stated by him, He will first visit Gurdaspur on 6th, on 7th of September he will be in Jalandhar, on 8th it will be Shri Anandpur Sahib ,9th will be day for Fatehgarh Sahib and on 10th of September Yatra will reach Patiala.
Sucha Singh Chhotpur made it clear , he will consult party workers from the different parts of the state to finalize his next plan.
On the other hand AAP has already declared new party chief Gurpreet singh ghuggi, who came as big surprise not only to AAP workers and public in general. Parties legal cell head, Sardar HImmat singh appreciated parties decision to promote Ghuggi to top position and showed full support and faith in him.
Some people are of the view that Chhotepur will join Awaaz-e-Punjab, a new party by Navjot singh Sidhu and Bains brothers including Pargat singh as well.