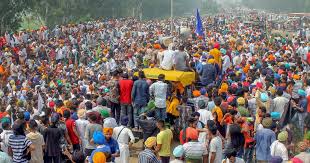 Demonstrations continue in Punjab
Chandigarh, 16 Oct:

Sikhs protesting against the desecration of a 'bir' of Guru Granth Sahib and the subsequent killing of two protesters at Kotkapura continued their agitation on Friday, blocking roads at several spots in Faridkot and Moga districts. Most roads were blocked using felled roadside trees.
Meanwhile, the police were able to persuade the family of the shooting victim Gurjeet Singh to hand over the body for post-mortem. The body was taken to the Faridkot medical college. Senior Congress leader Shakeel Ahmed was expected to visit the families of the two deceased in Faridkot villages on Friday.
In Moga, Sikh protesters blocked the highways at Ajitwal, Bughipura, Nihalsinghwala and Himmatpura villages, because of which the situation continued to remain tense. Heavy police force has been deployed at sensitive spots. Bus service was affected on the Moga-Ludhiana highway. Bus service was also suspended on the Muktsar-Kotkapura route.
Many private schools in Moga city remained closed due to the unrest in the area. In another development, a copy of the holy scripture 'Japji Sahib' was allegedly found in a drain at Sarainaga village. The police said a formal complaint was yet to be received from the gurdwara management. The discovery led to further tension as residents blocked the Muktsar-Kotkapura highway at Sarainaga.
In Jalandhar, gurdwara preachers organised a protest at Guru Nanak Mission Chowk, demanding withdrawal of the FIRs against Sikhs in the Faridkot incident. Radical Sikh groups staged a protest outside Giani Gurmukh Singh Hall at Gurdwara Fatehgarh Sahib, where the meeting of the crucial SGPC executive committee was to be held.
The meeting was subsequently cancelled. Students of various educational institutions raised pro-Khalistan slogans. In Ferozepur, Sikh protesters have blocked the Makhu-Amritsar highway near Harike water headworks since Thursday night.
In Nawanshahr, three 'birs' of Guru Granth Sahib were said to have been damaged in a fire, which the police said had been caused due to a short circuit. Shopkeepers in Jagraon were forced to close, even as the police attempted to use force to disperse the protesters.