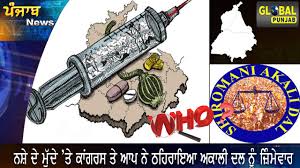 Drug peddling is lead by Majithia : AAP (ਨਸ਼ੇ ਲਈ ਅਕਾਲੀ ਦਲ ਜਿੰਮੇਵਾਰ : ਆਪ)
when ever Arvind kejriwal visit Punjab , drug issue comes in front. According to AAP leaders, every city , every house in Punjab has put up placard on their wall, quoting , Majithia is responsible for drug peddling in Punjab. They warned Bikram singh Majithia , that his days are over and he will put behind the bars after six months, once AAP form government in Punjab.
Earlier Arvind Kejriwal has challenged Bikram to put him (kejriwal) behind the bars or he(kejriwal) will bring him to justice.