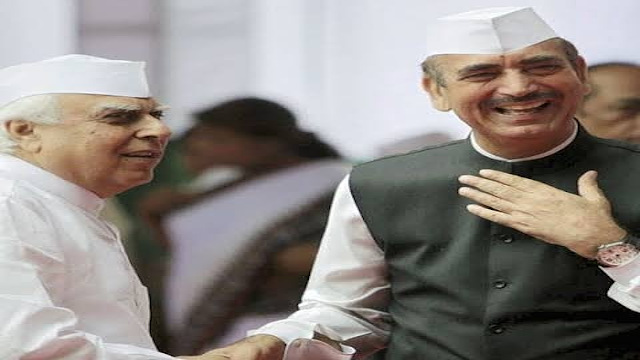 "GURU" finally joined congress
Navjot Singh Sidhu finally joined Congress yesterday. He said that "I am born congressman". My father Sardar Bhagwant Singh served for Congress for 40 years. He work in KIRTI GADAR PARTY with Teja Singh for Indian independence.
He worked from Lahore for a newspaper. After that he caught by British. He was sentenced to Death and ordered for firing squad . When left 7 days in death he is run from jail and after independence he work as MLA, MP in Punjab.
So finally i come back to my roots. Some people bargaining about me on news channels but I can't afraid from him. Sidhu even decided to leave comedy nights for politics.
He also said that this fight is not my personal, I fight here for Punjab's attitude and congress provide me a stage for the fight against the enemies of Punjab.
He says that last time Punjab is known for it's green revolution now in that time Punjab is known for drugs. When we lost the name and attitude of Punjab we are destroyed, we need to do work against the enemies of Punjab and make our Punjab a good established and full with happiness.
The farmer of Punjab is the king of food but government want to make him beggar. The work progress of existing government is based on that strategies to make a beggar from a farmer.
Now the need of time is that we are joined in a single rope and and fight against Akali Sarkar to stop him destroying Punjab. There is 55% people in Punjab are youngsters between 18 to 28 age group. "What is done for them fro existing Government, nothing" so very big need of time is to change the Government.
He also says that the Drugs are the reality of Punjab. They are destroying the youth of our community. If we want to secure our community, please secure youngsters. Communities are lost in days who does not fight for their rights.
We are not destroyed, we are the sons of Sri Guru Gobind Singh Ji. Drugs come in Punjab with the help of Government. Why drugs are not sale in Rajasthan or Gujarat. The main power of drug rackets is from our politicians.
No one says that drugs are reality in Punjab, but i says that Drugs are exist in Punjab and sold with the help of Government.Police is not free to do it's work.
Punjab police is a toy for the Government of Punjab. Officers of Punjab Police is done work on the orders of Jathedars. Law and order in very poor condition in Punjab.
He also said that my main motive is to save Punjab from drugs , loans , suicides and many other problems that are responsible for destroying the families in Punjab. People of Punjab are very brave, but Some people want to finish them with drugs and i say with sadness that people of Punjab are dyed with drugs day by day.
There is one lakh eighty eight thousand crore of loan on the people of Punjab, Why? Because Politicians made their homes and stand their businesses with the money of Punjab Government.
Government by the people is now become Government for a family. Akali dal was a holy party but now it become a private property. To save our Punjab please vote for Congress.