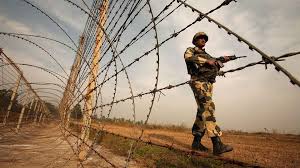 India to build Concrete wall on border with Pakistan
India is planning to build a concrete wall on border with Pakistan, to seal the border properly. Just like Israel, this wall will be secure, tall and strong enough to seal the border with Pakistan , to make sure no one from the other site cross over to India.
India's home minister Rajnath will have meeting with chief ministers of the border states including Punjab, Jammu n Kashmir, Rajasthan, Gujrat to discuss the issue. Indian government has made up its mind to seal the border in the coming 9 to 10 months.
Tension between the two countries , increased manifolds after the surgical strikes by Indian Army and around 800 villages on Indo-Pak border were evacuated as precautionary measures.
If approved this will be the first time that India will raise concrete wall on its borders. Government has assured that they will take into considerations the suggestions made by various committees on sealing border. Government is planning to use laser techniques at the places where we have small rivulets or other drains where it is difficult to raise wall.
Indian government is very serious this time to seal the border properly , specially after attack on Uri Army Camp. Government was under pressure from within the country , to take revenge of those army man who were killed in the Uri attack, so Indian army conducted surgical strikes to destroy terrorist launch pads in Pakistan occupied Kashmir.