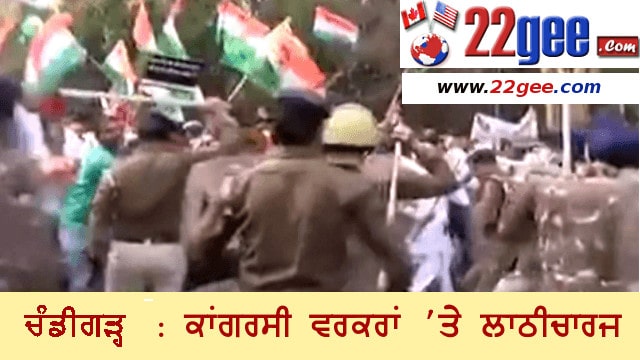 Indian congress canned n thrashed at Chandigarh
Chandigarh Police rained sticks on protesting Congress workers when they tried to move towards Vidhan Sabha. Indian Congress workers from Haryana were protesting against the infamous scam of Gurgaon, better known as Gwal Pahari Land Scam.
One of the MLA's from Khattar government has raised the issue , which was later taken up by Congress, resulting is huge protest at Chandigarh.
Actually thing were gone out of control forcing Chandigarh police to resort to lathicharge. As per the police officials, the protesters changed the venue of protest, leading to problem.
They were allowed to protest at specified place by the administration but protesters changed the venue own their own and tried to move towards Vidhan Sabha, resulting in anger of the police department.
Congress senior leader Ajay Yadav told the media person that Chandigarh administration has failed on all fronts. He alleged that administration was not prepared at all ,which resulted in lathicharge on Congress workers.
He said police should have put up barricades on Matka chownk, which they didn't. He also alleged that they are not bound to let the administration about the route to be adopted by protesters, as alleged by administration.
He alleged that the scam is huge involving 464 crores of rupees. He also alleged that around 15000 to 20000 acres of land is involved. He alleged Chief ministers own principal secretory has written for the allocation of the land, this means government is involved in scam.
He alleged they were protesting peacefully but police started beating them without any provocation. He said police might have used water canons or tear gas , but they directly using sticks which is not good on police's part.
Yadav told the media that he is demanding his arrest, but police is not arresting him. Till the last reports available , he was not arrested by the Chandigarh police.