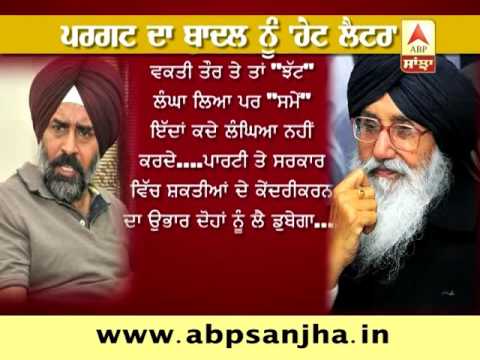 Letter bomb by Pargat singh
Letter bomb by Pargat singh ex-captain of Indian hocky team and senior leader recently expelled from Shiromani Akali Dal Badal.
He has written a direct letter to party supremo and most experienced leader, present CM of the state S. Parkash Singh Badal. He not only attacked bad policies of the party but also tried to present his views about the recents development including his expulsion.
He is present mla from Jalandhar Cantt. He won this seat on SAD symbol and was very much liked by the people of the area who has given him mandate to win assembly elections.
He has pointed out many points in his letter bomb. He has mentioned deputy chief minister and son of S. Parkash singh Badal, S. Sukhbir Singh Badal as dictator. He alleged Mr. Badal is well learned and down to earth person, who listen to others very patiently and resolve issues peacefully and tactfully.
On the other hand Sukhbir singh Badal, is arrogant person , and he is learned nothing form his father. Party according to him is dreaming of ruling Punjab continuously for 25 years, and may dream for more years but day dreaming is of no use, because you are suppose to do good things, have to work for the people of the state to win over their confidence and respect. Akali are evening planning to fight in UP
Pargat singh advised Badal's , that they should understand and implement their slogan "Raj nahi seva" .
They must know the ground realities. Akalis dal was formed with philosphy of saving sec or religion , even if one have to sacrifice his family, but now its all together reverse scenario. Sukhbir Badal is thinking of himself and his family and for him sect or religion are not that important.
He has written that Sukhbir has learned nothing from senior Badal. He should have learned at least very effective political weapon that Parkash singh Badal is having and that is his behaviour towards others, as he is very patient and polite to others.
On the other hand junior badal has made arrogance, muscle and money as political tools which is leading both party and Punjab towards destruction.
Pargat singh alleged that no one in Punjab is satisfied with the Akali slogans. In the last few years the basic structure of the whole party has suffered a lot , because of arrogant behaviour of Sukhbir singh Badal.
He also highlighted problem being faced by Punjabi's these days that include drugs, unemployment, sand mafia, land mafia, red tapism and many more are black spots on the face of our state and worse thing is nobody is paying attention to resolve these problems.
Pargat singh also mentioned how sikh religion has suffered during Akali rule. Political leaders of the party have are using it as a tool for politics. He further mentioned that Shri Akal Takht Sahib has suffered maximum degradation and this loss is not structural loss as done by others, it is much more dangerous.
Pargat singh was expelled from the party by Sukhbir singh Badal because of anti party activities but now with this letter bomb he has brought forward his views for all including party supremo and CM of Punjab.