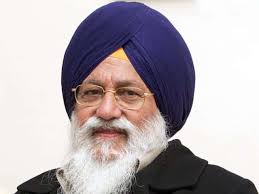 Makkar meets Bhullar, seeks his early release
Shiromani Gurdwara Parbhandhak Committee (SGPC) president Avtar Singh Makkar on Thursday met terror convict Devinder Pal Bhullar and demanded his permanent release.
Makkar, who reached Guru Nanak Hospital in the afternoon, along with Takht Keshgarh Sahib jathedar Giani Mal Singh, had a breif meeting with Bhullar's wife Navneet Kaur before meeting him. Later, demanding his permanent release, Makkar said, "The SGPC has always faught for the cause of Sikh prisioners who have spent decades in jails. We welcome the move to shift both Bhullar and Gurdeep Singh Khera to Punjab. I strongly feel that people like Bhullar must be released immediately."
Makkar said , "I have come here because the SGPC was concerned about the issue and we are ready to provide all help. Whatever the family wants, we will provide. The SGPC is also ready to offer legal aid and can arrange the best of lawyers if the family wants."
Makkar credits chief minister Parkash Singh Badal with bringing back the Sikh prisoners to Punjab. He said various people were working towards this but the CM played a big role. Makkar said Bhullar seemed better but could not talk much.
After talking to Makkar, Navneet Kaur said, "The priority at present is to ensure that my husband's health improves. He is recovering and things are better after he was shifted to Punjab. He had a surgery on Wednesday following backpain and is better now. We will apply for parole once his health improves."
As visitors are allowed to meet Bhullar only on Friday and Saturday, Makkar was allowed to meet him under a special permission from the authorities of the Amritsar central jail.