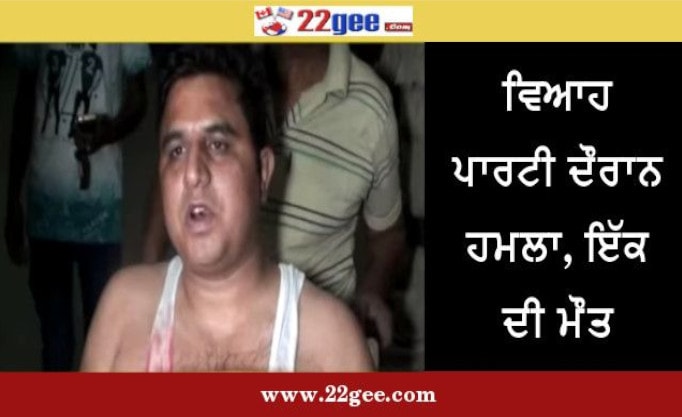 Marriage function in Jallandhar end up with one killed and 2 injured
As per available information , some unknown persons attacked the marriage party at Jalandhar, with sharp edge weapons. One person was killed in this attack and two were seriously injured.
Incident took place at Jalandhar Urban estate area where Marriage function was going on at some marriage palace. While Marriage reception party was going on, few of the , guests who were sitting in a house nearby were attacked by group of people carrying sharp edge weapons. One person named Tinku was killed on the spot , whereas his two associates were seriously injured and were admitted to the government hospitals.
Raju, one of the injured in this attack, told the media persons that, he and his brother were attacked by around eight to ten people. When asked about the people who attacked them, he told that brother of Raju, was involved in the attack. He said , the attacker is from Labor colony and is involved in smack business.
Ravinder pal sandhu , ADCP, told informed the media about the incident. He told that two groups clashed with each other , which resulted in death of one and injuring two. He told that the police is registering case on the basis of the statements given by the injured person. He said case under section 302 IPC will be register in this regard and further investigation is going on. He said police will handle this case firmly and will take action against the accused who ever he might be.
Clashes and gun fires are very common in marriage specially in Punjab. Recently one dancer was killed in the accidental fire in a marriage party at Mor Mandi Bathinda. Dancer Kulwinder Kaur was pregnant at that time, was killed on the spot by .12 bore gun.
In similar kind of incident in another marriage function Sadhvi Deva Thakur and her guards fired more than 100 rounds of fire in a marriage function. This gain proved fatal for one guest who died in this accident.