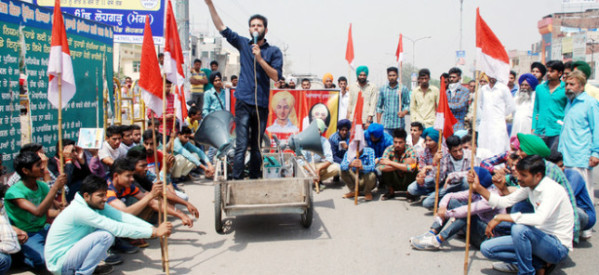 Moga incident:Protests continue across state
Broadly spread protests extended across the district on Wednesday, eight days after 13-year-old Arshdeep Kaur was killed allegedly after being molested and pushed off a moving bus by its staff.
The bus affiliated with Orbit Aviations Private Limited, a company owned by Deputy Chief Minister Sukhbir Singh Badal and his family members.
The activists of Punjab Students Union gathered at the main square of Moga city outside the bus stand and staged a dharna against the SAD government. They expected certification of a criminal case against Sukhbir and his family members and cancellation of permits of all buses owned by them.
In Baghapurana sub-division, the activists of various trade unions gathered at Nathoke village and staged a riot. They burnt a statue of Sukhbir and demanded action against the owners of Orbit bus service.
The protesters demanded a thorough inquiry into the number routes allotted to all private bus companies and the actual figures of buses owned by respective companies working on roads. They requested that the dominant private bus operators were running 3 to 4 buses against single route allotted to them.
Capt Amarinder Singh has rejected the Punjab Government's decision to constitute a judicial commission to probe into the molestation and murder of a girl in an Orbit bus in Moga. Captain said in a report issued here on Wednesday, "As the topic is due in the Punjab and Haryana HC, and will come up for discussion on Thursday, there is no aim in staging up an equal probe".