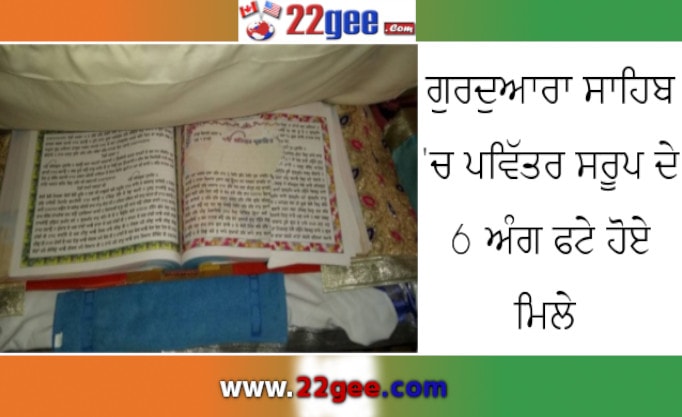 New Sacrilege case of Guru Granth Sahib in Tarntaran
Another Sacrilege case of Guru Granth Sahib is reported from village Manakpura in Bikhivind. As per the reports available six pages (Angs) of Shri Guru Granth sahib were found torned by some miscreants.
Incident took place last night , and news spread like a jungle fire. Senior police officers reached the spot and started investigating the issue on top priority. These incidents were one of the issue's in the recent Punjab elections and both police and then ruling party SAD were accused of not taking any action to arrest the culprit.
Last incident reported was from village Devinagar in Dera Bassi, where a mentally unstable person entered the premises of gurudwara and torn out many pages of Shri Guru Granth Sahib. But in this case the accused was arrested on the same day by the police. The accused Surjit singh even admitted the crime after being arrested by the police.
In January this year Gurudwara at Sdoha, in Nawasheher was ransacked. Later after viewing CCTV footage administration came to know that few children from the same village were responsible for the whole incident. All the kids were of the age group around five to seven years, though formal case was also registered by the police to investigate if some other person may not have taught kids to do this kind of act. Few acts were doubtful in this incident, kids didn't touched the statue of Ravidas but torned and even burnt pages of Guru Granth Sahib, so that is why police registered formal case.
Not only in Punjab and India , there were reports of sacrilege from Bradford UK , as well. CCTV footage captured shows , how two people drive in and throw Guru Grath Sahib in Gurudwara Guru Gobind singh ji Bradford.