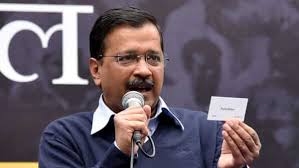 Religion for Power is Kejriwal's politics
AAP's ex convener, S. Sucha Singh Chhotepur has alleged , that Arvind Kejriwal wants to become the Chief Minister of Punjab himself. To fulfill his desire he is taking help of religion and is playing politics of religion.
Reacting to Kejriwal's announcement of declaring Amritsar and Shri Anandpur Sahib as holy cities, he advised him to take care of Delhi, instead of wasting time in Punjab politics. He further added there are many religious , historical places in Delhi, like Rakab ganj gurudwara, he (kejriwal) should instead declare those area's as holy city. Kejriwal should remove non vegetarian eating places , cigarettes and drinking places from those places, he insisted.
Sucha singh Chhotepur warned all Punjabi's to save themselves from Kejriwal , who is doing everything to become CM of Punjab. He alleged that Kejriwal is adopting double standards on SYL issue, by speacking infavour of Punjab whenever he visit Punjab and while he is in Delhi, he keep quite.
He also alleged that Kejriwal promised to get Badal's behind the bars once his party came into power ,but unfortunately he did nothing to Sheela dixit in Delhi. Before Delhi election he had promised the people of Delhi that he will put Sheela dixit behind the bars and even after one and half year of his party coming to power, she is still roaming freely.
About Ghuggi being appointed new convener of the party, he said, Ghuggi is unaware of Kejriwal's politics and he will be used by Kejriwal as per his convenience. He alleged that half of the Delhi team of Kejriwal has been booked in different cases, like sex scandal and now kejriwal is looking for power in Punjab.
After being removed from the post of AAP's convener, Chhotepur has started 'Punjab Parivartan Yatra', is going to different parts of Punjab to decide his future plans. There are possibilities of his joining Navjot singh Sidhu's Awaaj-e-Punjab.