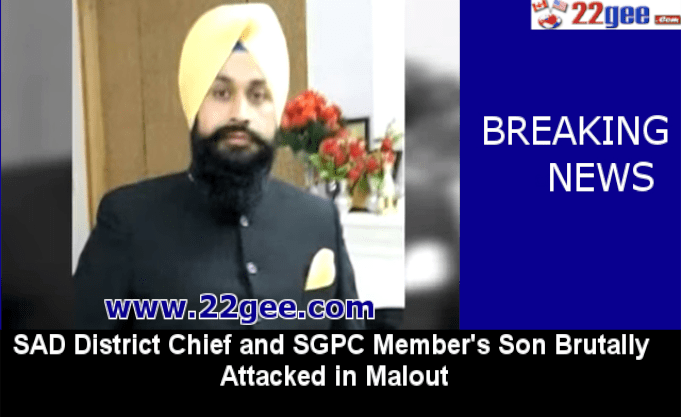 SAD District Chief and SGPC Member's Son Brutally Attacked in Malout
SAD District Chief and SGPC Member Dyal Singh Kolianwali's son Parminder Singh was brutally attacked on Sunday in Malout. This incident happened at that time when Parminder Singh was coming back to his home from gym on Sunday evening, around 15 people started firing at him also attackers badly beaten up Parminder Singh and broke his one of the legs.

Now Parminder is admitted in an ICU unit in one of the best hospitals in Bathinda. Dyal Singh told in his statement that Congress Party is behind this attack. He said that it is definitely a Political attack which is done by Congress Party and this attack has been done with full proof planning. This attack is not done at personal level.
Dyal Singh said that Congress Party Member Manna, Bakshish and Bittu are mastermind of this attack. Parminder Singh was attacked with blind fires and was also attacked by sharp weapons. This attacked was done with planning. Prakash Singh Badal, Former Punjab Chief Minister also said that he feels very bad about hearing this attack and he also said that it is an expected attack and was done with mastermind planning.
Prakash Singh Badal said that attackers came with only one thing in mind that they just want to harm Dyal Singh and his son Parminder Singh by hook or by crook.
He also said that Dyal Singh have already highlighted this case to BC Authorities many times in written and Prakash Singh Badal also told DGP Punjab and other Officers that this case should not be taken easily, but nobody took care of this thing, which resulted in the attack on Parminder Singh Kolianwali.
Police has registered case against Punjab General Secretary-Sukhdeep Singh, Congress Leader-Bakshish Singh, Manpreet Singh Manna.