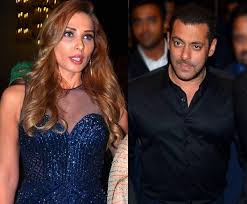 Salman is taking a good care of his woman
Every man is very protective towards his woman,same is happening in Bollywood. If we talk about Salman Khan,Salman is very much protective for his lady love Lulia. He is madly,deeply and wholly in Love with Lulia.
Lulia hails from Romania.Salman made it an official announcement at Preity Zinta's Wedding Reception.The duo entered with color coordinated outfit.
Salman especially appointed 3 bodyguards for Lulia to protect her public hazzle because fan follow her wherever she goes. He want to take care of Lulia very well and want to take away her from every problem.
Nowadays, Salman is in the news in top of town of Bollywood due to his lady love Lulia.Salman's girlfriend stepped out at airport holding Salman's mother hand and sister Alvira Agnihotri was also present there.