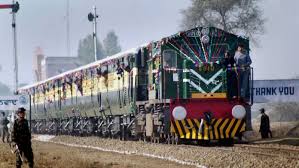 Samjhauta Express cancellation triggers diplomatic furore
Ferozepur, 12 Oct:

Amid prevailing belligerent relations between India and Pakistan, the cancellation of Lahore-Attari "Samjhauta Express" due to farmers' agitation in Punjab has triggered another diplomatic row between the two nations.
The "Samjhauta Express", which runs twice a week-on Monday and Thursday-between Lahore and Attari, was earlier cancelled on October 8 due to the agitation. The move had evoked strong response from the Pakistani foreign office which had summoned India's Acting Deputy High Commissioner S Raghuram to express concern over the sudden cancellation of the train.
As per the press release issued by the Pakistani foreign office, Dr Mahammad Faisal, Director (South Asia), told Raghuram during the meeting that the impromptu cancellation of the train had caused inconvenience to over 200 passengers from both the countries who remained stranded at the Wagah railway station for over five hours as the train was not allowed to leave for Attari.
"We expect the Indian side to make utmost efforts to avoid recurrence of such incidents in future and facilitate the travellers from Pakistan and India," the release had quoted Dr Faisal as telling the Indian Acting Deputy High Commissioner.
Later, Ministry of External Affairs spokesperson Vikas Swarup, while rebutting the charges of "stopping" the train abruptly, clarified that "Samjhauta Express" was among the 75 trains travelling through Punjab that were cancelled that day by protesting farmers.
Anuj Prakash, Divisional Railways Manager (DRM) of the Ferozepur Division, which supervises the operation of this train, said the Pakistani railway authorities were informed about the cancellation as there was no possibility of taking the Pakistani passengers up to Delhi as the track ahead of Attari was blocked on that day.
"The train could not be run in such a situation," Prakash said, adding that the 14608 Lahore-Attari (Samjhauta Express) would also remain suspended on Monday due to the ongoing protest by the farmers regarding which the information has already been conveyed to the Pakistani counterparts.
The DRM said the "14001 Delhi-Attari Express" scheduled to leave the Old Delhi station today and "14002 Attari-Delhi Express" scheduled to leave Attari tomorrow would also remain suspended.
Sources in the Railways said still hundreds of passengers, including Indians and Pakistani nationals, were stranded in Delhi and Lahore as now the train was expected to resume on Thursday provided the agitation was withdrawn by that time. Meanwhile, the External Affairs Ministry has reportedly asked the railways to resolve the situation at the earliest.