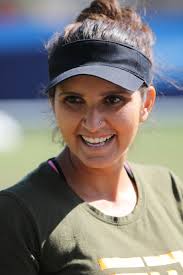 Sania Mirza, India's Superwoman, Soars to New Heights With Wimbledon Crown
Surrounded by controversies and haunted by injuries, Sania Mirza has often drawn negative headlines but there is no denying she is now among India's most revered and successful tennis players of all time. The Hyderabad girl has come under fire from Muslim leaders for her short tennis clothes, views on safe sex and her Pakistani cricketer husband, Shoaib Malik but Sania has defied them stubbornly. On Sunday, she went a step further and won the only Major trophy missing from her cabinet – the Wimbledon.
Sania and Martina Hingis came from behind to stun the Russian duo of Ekaterina Makarova and Elena Vesnina. While Hingis won her first Major in 17 years, Sania clinched her first women's doubles title at a Grand Slam. And to do that at the All England Club was "very special" in her own words.
Married to former Pakistan skipper Shoaib Malik, Sania is no stranger to comments in bad taste. However, all limits were clearly crossed when her patriotism was questioned. A tearful Sania appeared on NDTV and said it was unfair that she had to assert? her 'Indian-ness' all the time. Then she went on to did exactly that, putting India on the global tennis map. Soon after, she paired up with Bruno Soares to win the French Open mixed doubles title in 2014 – a notable addition to crowns won in the 2009 Australian Open and 2012 French Open with Mahesh Bhupathi.
But that was not enough – that was never going to be enough. Sania wanted more and went about it in a determined way. She broke her successful alliance with Zimbabwean partner Cara Black and teamed up with Swiss legend Martina Hingis, who was a force to reckon with in the 1990s. And then there was no looking back. That new partnership in March of last year won three successive titles and Sania became the first Indian woman to be ranked number one in world doubles rankings.
Before Sania, only Leander Paes and Mahesh Bhuapthi had achieved the top rank when they dominated men's doubles circuit in the late 1990s.
Then Wimbledon 2015 happened. Sania and Hingis were in a different league, decimating opponents with sheer class and ruthlessness. On Sunday, they appeared to be on the backfoot and even lost the first set. But the next two sets belonged to them and the world took notice – even as Serena Williams smashed her way to a record sixth singles title hours ago.
A lot of the attention from the world press was showered obviously thanks to Hingis but there is no denying that Sania's presence also fueled interest. She is after all the number one woman doubles player in the world.
The glamorous Mirza first picked up a tennis racquet as a six-year-old in the hallowed premises of the Nizam Club in Hyderabad – 22 years later, she is one of the most popular Indian sporting stars in the country and draws instant recognition in the world when they talk of doubles tennis. She has come a long way and can only go on to greater heights.