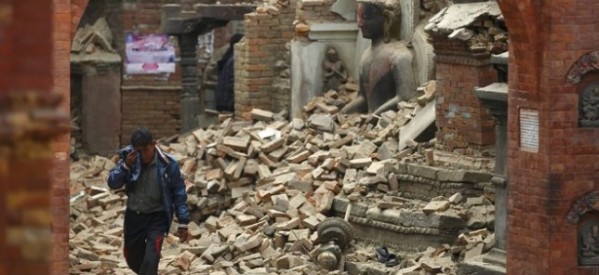 Shock after shock; Nepal toll nears 2,500
Strong and effective tremors shocked Nepal on Sunday as the Himalayan nation struggled to cope with the aftermath of a destructive earthquake that had struck a day earlier, killing nearly 2,500 people and flattening hundreds of buildings.
A strong 6.7-magnitude aftershock followed by another quake of 6.5 on the Richter Scale, sent people crawling for open spaces.
Rain added to the misery of rescuers who struggled to stumble through tonnes of rubble to look for survivors.
With no electricity, Kathmandu looked a ghost city. Rain compelled the termination of the airport where chaotic scenes were witnessed with stranded foreign tourists desperate to go home.
The 7.9-magnitude temblor yesterday left a track of destruction and agony and left people spending the cold night in the open because of fears of fresh quake. According to the latest facts available with the Kathmandu-based National Emergency Operation Centre, the death rate in Nepal reached at 2,460 and 6,239 had been badly injured. As many as 1,053 people are reported killed in the Kathmandu Valley alone.
Officials worry the death toll could rise as reckless search for survivors maintained. International salvage teams, including from India, have touched down here as Nepal announced a state of emergency in the watch of the calamity, the worst in over 80 years of the country's recorded history.
Rescuers have been angling for survivors under heaps of debris with bare hands as well as heavy equipment though the efforts have been hampered due to fresh tremors, thunderstorms and snowfall in the mountain ranges.