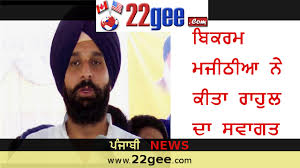 The highest security from Election Commission to Bhagwant Maan
MLA Candidate from Aam Aadmi Party at Jalalabad Bhagwant Maan registered their complaint to Election Commission that some Gangsters want to kill him. He pointed Akali Party as a gangster party. Basically, AAP party avoid VIP culture and security , but MLA candidate from Jalalabad, Bhagwant Maan applied for security. Now, Election Commission fulfill their demands and give him very high security. In Punjab basically the load of Candidate's security is on Punjab Police.
Punjab Police give two policeman with each Candidate for security. But in case of Bhagwant Maan , election Commission send Commandos for his security. Other parties said that Aam Aadmi Party's candidate Bhagwant is lair. He often said that AAP party hates VIP culture, but Bhagwant Maan use Commandos for his security now. At least he is not on a VIP post. Bhagwant Maan said that there is gangster's kingdom in Punjab. People of Punjab who loves me , a number of times suggested to keep security.The minds of Existing leaders are very cruel. I work for the people of Punjab, who loves me and exited to vote for AAP.
Existing Government afraid from me and tried to misbehave with me. I often go for Rallies in night, Anti Social elements attack on me any time. I need security, so i could serve properly for my Motherland Punjab. Punjabis accept this thing that i need of security to work for my Punjab. Bhagwant Maan also promised that he will definitely successfully free Punjab from Gangsters kingdom.
Bhagwant Maan also said that he has given some instructions to Commandos. Firstly , not to stop common people those who come to meet him. To treat all people normally and politely. Not to use any kind of hardness on common man. Bhagwant Maan said that he will fill his nominations on 18 January. And will win from Jalalabad at very high lead and will definitely establish AAP's government for bright future of Punjab.